email ; rosie9436@gmail.com
tel ; 90253135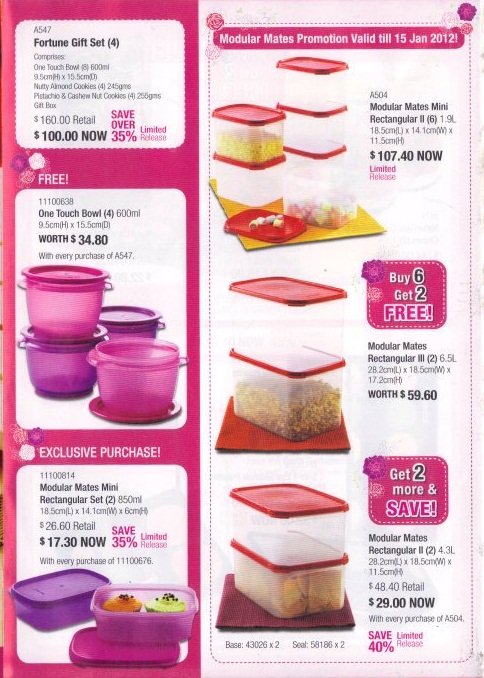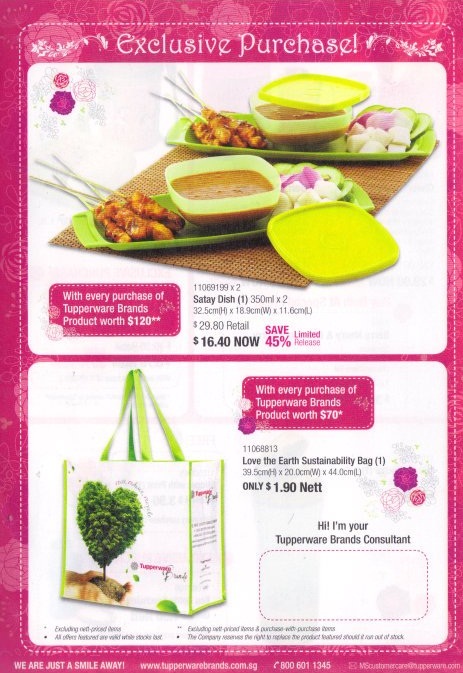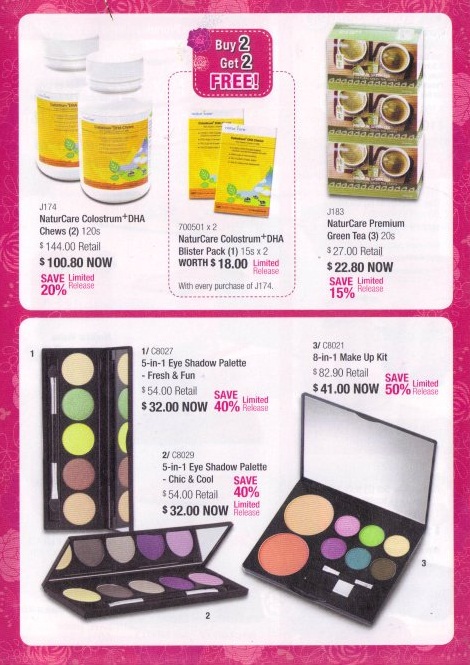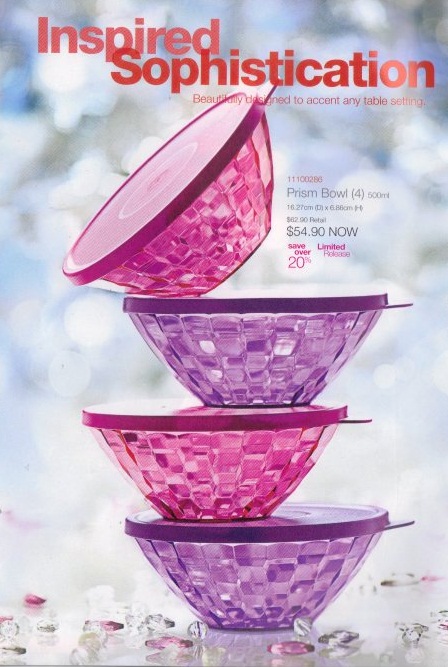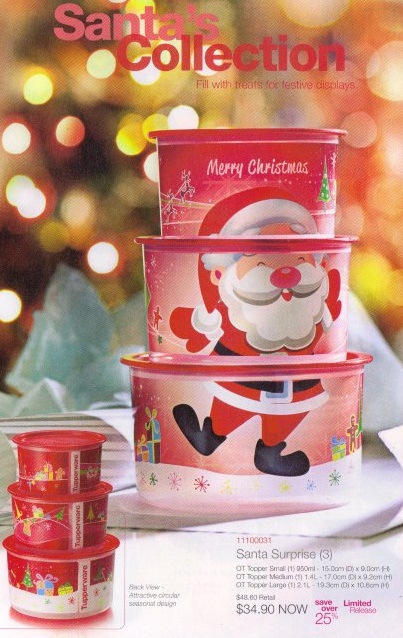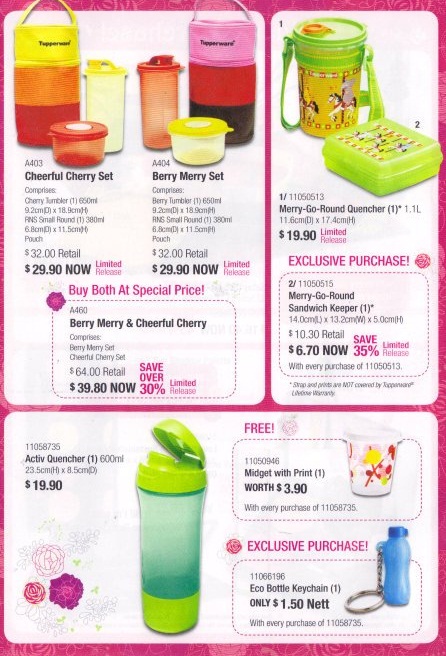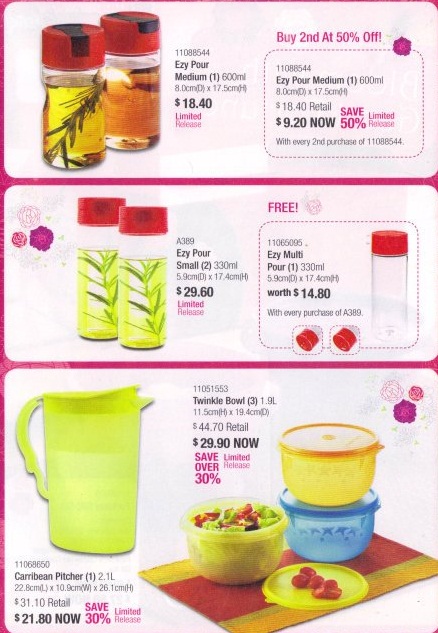 HAPPY BROWSING ;) DO CALL TO VERIFY OR ORDER .
MERRY CHRISTMAS EVERYBODY !
For over 50 years, we at Tupperware Brands have proudly backed our products with a Lifetime Guarantee so you can buy with confidence. All Tupperware products carried under the Tupperware Trademarks are guaranteed by Tupperware Brands to perform under normal domestic use for the lifetime of the product. We will replace, free of charge, any Tupperware product, or any part that, under normal domestic use, shows a manufacturing defect.
Consultants can bring their Tupperware Products to any authorised Business Centre for warranty replacements.
Covered by the TUPPERWARE Lifetime Garauntee
- warping
- cracking
- peeling
- chipping
not Covered by the TUPPERWARE Lifetime Garauntee
- stains
- insect & pest bites
- melting
- cuts
- taps
- straps
- impact damage
- discolouration
- scratches
- prints
- pouches
Reports have appeared recently in the media that polycarbonate containers are unsafe for use in food contact applications.The U.S. Food and Drug Administration has found this material to be safe. Polycarbonate is a high-strength plastic made from a monomer known asbisphenol-A(BPA). Certain Tupperware products are made from polycarbonate, including serving products and Rock 'N Serve/Vent 'N Serve storage and microwave reheating containers. However, polycarbonate is NOT used in Tupperware baby bottles or toys.
Bisphenol-A has been an approved substance for use in food contact products for decades. Governmental regulatory agencies around the world, including the U.S. Food and Drug Administration, Health Canada, the European Food Safety Agency, the United Kingdom Food Standards Agency and the Japanese Ministry for Health, Labor and Welfare have all approved the material. Over the last ten years, other scientists have raised concerns over the substance, including the amount which migrates out of the products during heating. These governmental agencies have reconfirmed the safety of the material during this period. Tupperware also has conducted migration studies of bisphenol-A from its products using independent testing laboratories, and found the migration levels to be within acceptable levels, as specified by the Governmental regulatory agencies.
On the strength of the repeated governmental scrutiny that polycarbonate has had, Tupperware continues to believe the material is safe. However, as Tupperware has the highest regard for the safety of the consumers of its products and the functionality of these products, it will continue to closely monitor this scientific debate and research the best materials for use in its products.
Additional References:
http://www.goodhousekeeping.com/food/products/plastic-safety-heat-food-6
http://www.efsa.europa.eu/EFSA/efsa_locale-1178620753812_1178620835386.htm
http://www.fda.gov/fdac/features/2002/602_plastic.html
When it comes to Tupperware, just look out for the Tupperware™ logo printed on the bottom of each product.
All Tupperware products have passed stringent tests and are built to last.
They are quality products that are food-grade safe, which is integral to family health.
They are also designed to be used repeatedly, thus reducing unwanted mountains of garbage.
The Tupperware logo is the only assurance you need.
With Tupperware, you can use with peace of mind.
Customer Service
Around the globe, the Tupperware® name stands for superior product quality and outstanding customer service. Our commitment to customer satisfaction is absolute - we'll stake our reputation on it.
Our Return Policy
We want you to be delighted with every Tupperware® product you purchase. Therefore, if for any reason you are not completely satisfied with your online purchase of Tupperware® products, you can return the items purchased within 30 days of delivery. Returned items are refunded at the original purchase price, plus applicable sales tax, less any shipping fees, in the original method of payment. To make a return, please contact our Customer Care Center at 1(800) 366-3800.
Limited Lifetime Warranty
Tupperware® Brand products are warranted by Tupperware against chipping, cracking, breaking or peeling under normal non-commercial use for the lifetime of the product. Please call Customer Care toll-free at 1(800) 366-3800 for free replacement. If, due to unavailability, actual product replacement cannot be made, comparable product replacement will be made, or credit towards future purchases of Tupperware® brand products will be given. This warranty gives you specific legal rights, and you may also have other rights which vary from state to state.
<span>As a result of media coverage surrounding the FDA's January 2010 statement, some of you may have heard about the use of polycarbonate, and specifically Bisphenol-A, in the manufacturing of various plastic consumer products. I wanted to give all of you an update on this issue.
At Tupperware Brands, we're firmly committed to the safety and well-being of our consultants and consumers of our products worldwide. We've posted a statement which discusses our views on polycarbonate, as well as a Q&A which should help answer any questions you may have about our products containing this material. We are also committed to a continuing review of new materials which improve the performance of our products.
Let's first be clear about the extent of Tupperware's use of polycarbonate. Polycarbonate is NOT used in Tupperware products intended for babies or children, including baby bottles, sippy cups or toys worldwide, nor is polycarbonate used in any products in the U. S. or Canada. Where Tupperware does use polycarbonate it constitutes less than 10 percent of those products. Tupperware has relied on regulatory approvals for the use of this material in food contact products, and the regulators have consistently upheld the safety of this material for uses in products Tupperware has made.
However, while we will continue to monitor this scientific debate that may influence the regulators, including any final decisions of the FDA, we are aware of the attitudes of consumers towards polycarbonate and to the concerns that have arisen about children's products. Consequently, though we do not use polycarbonate in children's products, we have tested and introduced new materials in the U.S. and Canada which improve the performance characteristics of our other products that until now have been produced from polycarbonate.
I encourage you to read the statement and Q&A, and feel free to contact us directly if you have any questions. Call 1-888-TUPWARE in the U.S. or 1-866-376-7521 in Canada.
Sincerely yours,
Rick Goings
Chairman and CEO of Tupperware Brands Corporation</span>